November 2005: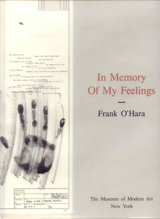 New edition of
In Memory of My Feelings: A Selection of Poems
by Frank O'Hara, edited by Bill Berkson. Preface by René d'Harnoncourt. Art for the poems by Nell Blaine, Norman Bluhm, Joe Brainard, John Button, Giorgio Cavallon, Allan D'Arcangelo, Elaine de Kooning, Willem de Kooning, Niki de Saint Phalle, Helen Frankenthaler, Jane Freilicher, Michael Goldberg, Philip Guston, Grace Hartigan, Al Held, Jasper Johns, Matsumi Kanemitsu, Alex Katz, Lee Krasner, Alfred Leslie, Roy Lichtenstein, Marisol, Joan Mitchell, Robert Motherwell, Reuben Nakian, Barnett Newman, Claes Oldenburg, Robert Rauchenberg, Larry Rivers, and Jane Wilson.
Afterword by Bill Berkson.

Published by the Museum of Modern Art, New York: November 2005.
More info: MoMA