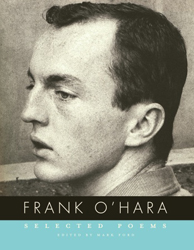 Selected Poems
Edited by Mark Ford
Introduction by Mark Ford
New York: Alfred A. Knopf, 2008 (hardcover), 2009 (paperback)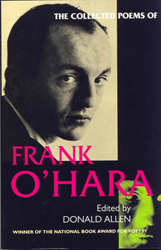 The Collected Poems of Frank O'Hara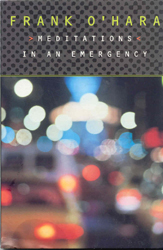 Meditations in an Emergency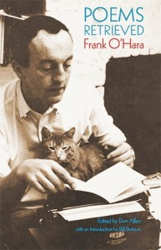 Poems Retrieved
Edited by Donald Allen
San Francisco: Grey Fox Press, 1977, 1996
San Francisco: City Lights Books, 2013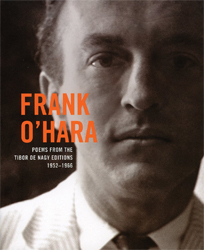 Poems from the Tibor de Nagy Editions
Foreword by Bill Berkson
New York: Tibor de Nagy Editions, 2006
A City Winter and Other Poems, Oranges: 12 Pastorals, and Love Poems (A Tentative Title) are reissued together in this paperback edition. Originally, the three separate volumes of poetry were published in limited editions. Cover photo by Renate Ponsold. Drawing by Larry Rivers for A City Winter and Other Poems, and painting by Grace Hartigan for Oranges: 12 Pastorals.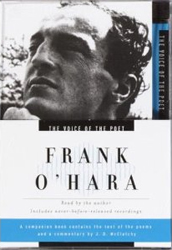 Voice of the Poet: Frank O'Hara
New York: Random House Audio, 2003
Introduction by J. D. McClatchy. This audiobook is part of the Voice of the Poet series. It includes a CD with 23 recordings of O'Hara reading his poems and a booklet that includes an introduction and poems.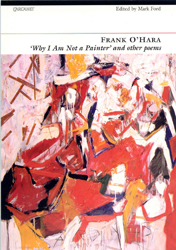 'Why I Am Not A Painter' and other poems
In Memory of My Feelings
Edited by Bill Berkson
Preface by René d'Harnoncourt
New York: Museum of Modern Art, 1967, 2005
Art for the poems by Nell Blaine, Norman Bluhm, Joe Brainard, John Button, Giorgio Cavallon, Allan D'Arcangelo, Elaine de Kooning, Willem de Kooning, Niki de Saint Phalle, Helen Frankenthaler, Jane Freilicher, Michael Goldberg, Philip Guston, Grace Hartigan, Al Held, Jasper Johns, Matsumi Kanemitsu, Alex Katz, Lee Krasner, Alfred Leslie, Roy Lichtenstein, Marisol, Joan Mitchell, Robert Motherwell, Reuben Nakian, Barnett Newman, Claes Oldenburg, Robert Rauchenberg, Larry Rivers, and Jane Wilson.
In Memory of My Feelings was published in 1967 as a limited edition set of folded sheets loose in a cloth and board folio contained in a slip case. In 2005 it was republished in a bound edition with a new cover by Jasper Johns ("Skin with O'Hara Poem")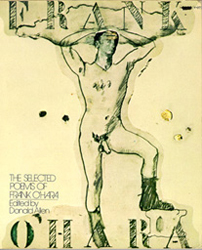 The Selected Poems of Frank O'Hara
Edited by Donald Allen
New York: Alfred A. Knopf  (hardcover) / Vintage Books (paperback), 1974
Manchester, UK: Carcanet, 1991, 2005 / London, UK: Penguin Books, 1994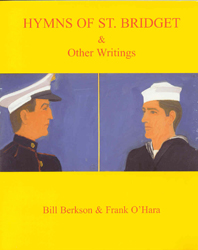 Hymns of St. Bridget and Other Writings
Early Writing
Edited by Donald Allen
San Francisco: Grey Fox Press, 1977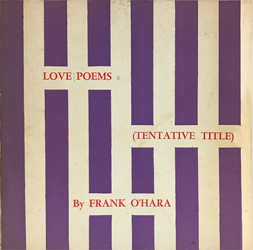 Love Poems (Tentative Title)
New York: Tibor de Nagy Editions, 1965
Odes
New York: Tiber Press, 1961
Second Avenue
New York: Totem Press in association with Corinth Books, 1960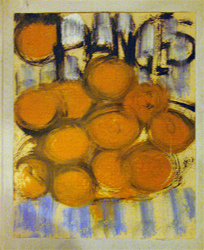 Oranges, 12 Pastorals
New York: Tibor de Nagy Gallery, 1953